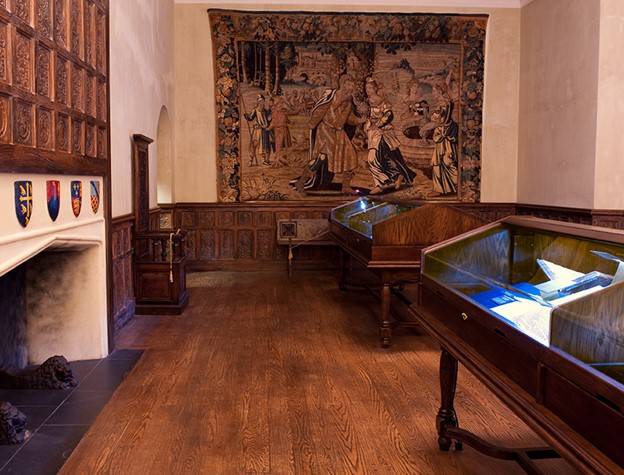 The Jerusalem Chamber is a conjectural replica of a room in Westminster Abbey, London, in which committees met to create the King James Version of the Bible (1611). Bob Jones University uses its Jerusalem Chamber to display a collection of historic Bibles.
The original Jerusalem Chamber was created in the late 14th century as part of the residence of the Abbots of Westminster. The origin of the name is uncertain, but it was not uncommon at the time to assign names to rooms. (Westminster Abbey also has a Jericho room and a Samaria room.)
According to a traditional story—retold by Shakespeare—in 1413, King Henry IV was taken ill in Westminster Abbey while planning a pilgrimage to the Holy Land. He was carried into the Abbot's house and laid by the fire. Asked where he was, he was told "Jerusalem." Henry then realized he was dying because it had been prophesied that he would die in Jerusalem.
The Jerusalem Chamber in London has been in constant use for more than six hundred years. The Westminster Assembly of Divines sat here for five years in the 1640s while writing the Westminster Confession of Faith and the Larger and Shorter Catechisms. Bishops of the Church of England have frequently met in the room, and the coffins of many famous people, including Sir Isaac Newton, have lain there before their funerals in Westminster Abbey. Today the room serves as something of an official reception room for the Dean of Westminster and is not open to the public.
Dixie Baptist Church, Clarkston, Michigan, led by Pastor Paul Vanaman (1928-1992), provided the funds to create the BJU reproduction. The length and breadth of the original Jerusalem Chamber was carefully replicated, though the reproduction has a lower ceiling than the original. Because the London room was modified many times during the 370 years that followed the translation of the King James Version, Harrell Whittington and Bob Jones Jr. collaborated in designing conjectural ceiling and wall paneling that was appropriate to the Tudor period. Melvin Stratton and John Swaffer were responsible for the construction.
The Jerusalem Chamber displays many old Bibles, including a 1608 Geneva Bible, a 1657 Biblia Sacra Polyglotta, and the Saur Bible of 1776, the first Bible printed in America with American-made type. The real treasure, exhibited in its own case, is an original copy of the 1611 KJV Bible, donated by Claude Q. Falligant (1914–2000).