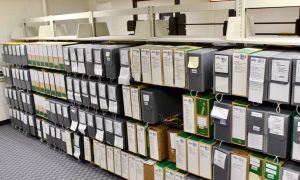 Mission Statement
The mission of the Bob Jones University Archives is to serve as a repository of institutional memory by collecting, preserving, and making accessible documents that illustrate, primarily, the history and heritage of the University and, secondarily, that of the Fundamentalist movement.
Activities
The Bob Jones University Archives collects, preserves, and makes available for research historical material about BJU and the Jones family, including University publications, oral histories, and sermon transcripts. Some of its holdings are discoverable via the Mack Library catalog, under Archives Reference Database.
These files are available online:
The BJU Archives welcomes donations relevant to the history of Bob Jones University. To learn more about current holdings, and to make appointments to view them, contact the archivist, John Matzko, jmatzko@bju.edu.