Earle W. Sargent Boardroom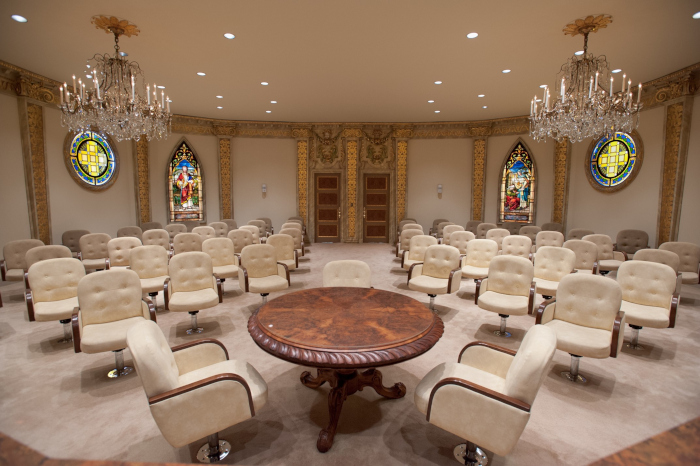 The University boardroom was created by a generous gift of Eleanor Greene Sargent (1899-1990), in memory of her husband, Earle Wheaton Sargent (1898-1978), a member of the Board of Trustees. The design of Harrell Whittington was executed by the University stage crew under the direction of Melvin Stratton and John Swaffer.
The elaborate pilasters and over-the-door decor were originally part of a reception room in the opulent New York City residence of financier George Blumenthal (1858-1941). After his house was dismantled in 1949, the woodwork was acquired by antique dealer French and Company, which gave these pieces to Bob Jones Jr.
The two arched stained glass windows were created about 1900 in the studios of Louis Comfort Tiffany. One depicts Dorcas, a symbol of Christian charity, and the other, the Apostle Paul, a symbol of faithfulness in proclaiming the Gospel. Mr. and Mrs. Monroe R. Meyerson contributed a tapestry that depicts a triumphal procession.
Two chandeliers, given by University Board of Trustees member William Henry Belk Simpson (1907-1992) and his wife, Katherine McArver Simpson (1925-2007), first hung in the ballroom of the Astor Hotel in Times Square, New York City (1904-1966) and then in the Cape Fear Hotel in Wilmington, North Carolina.
The boardroom is available for use by University departments and for academic programs. Contact Patrick Robbins, Director of Libraries, (864) 370-1800 ext. 6015, probbins@bju.edu.